February 8 – 28, 2020
Opening: February 8, 2020 7:00 PM
For the exhibition of Ádám Albert at the Kassák Museum in 2018 (Everything Is Ours!), Ádám Katyi designed a unique font and a catalog with the same title. In the framework of the exhibition Ádám Albert delved into a particular historical situation to explore how political, economic and artistic ideas join forces in constructing social utopia. The exhibition focused on May 1st of the year 1919 in Budapest. The installation made specifically for the spaces of the museum, evoking the clean functionalism of classical modernism and directing attention to the complex bond between aesthetics and ideology.
The actual show, Supergravity is presenting the graphic background of the volume and the past exhibition in 2018, and walks the visitors through the complex design process; from the first sketches and layouts to the final printed product. The specialty of the exhibition of the ISBN books+gallery is, that besides the elements of the finished image the sidings of the design process and the unrealized ideas will be also presented.
In addition, the current exhibition is also the debut of the custom font for the book, which will be available for free use from the opening day of the show thanks to the Hungarumlaut font design studio.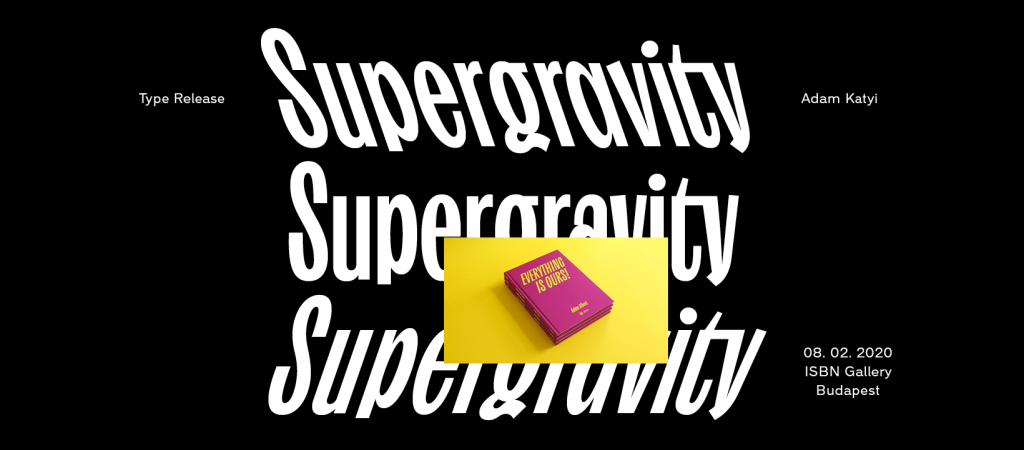 Ádám Katyi (Sopron, 1988)
Ádám Katyi has graduated at the Institute of Applied Arts in Sopron (BA in Graphic Design, 2010), the Moholy-Nagy University of Art and Design (MA in Graphic Design, 2012) and the Royal Academy of Art in The Hague (MA Type and Media, 2013). Since 2013, he has worked as an independent graphic designer and font designer. He is the head of Hungarumlaut Type Studio, where he has designed more than 12 fonts over the past five years.
Ádám Katyi is a lecturer at Moholy-Nagy University of Art and Design, and he leads workshops on font design as well. In 2014 he won the Hungarian Design Award in the category of visual communication with the Westeinde font, and in 2018 he won the Josef Binder Gold Award in the type design category with the unique Kleine Titel font. Since 2014 he lives with his wife and little son in Graz, Austria.
Photo: Simon Zsuzsanna