23rd January 2018. – 22nd February 2018.
Opening: 7pm, 22nd January 22. 2018.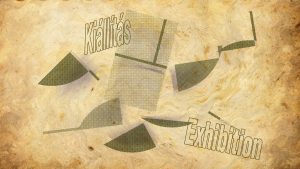 The topic of the first group show of the ISBN book+gallery is nearly inevitable: ​​the book itself. There are many books written about art. Catalogs, monographs, theoretical publications or art history books. It is also increasingly common for visual artists to produce books or unique publications, like photobooks, artist books fanzines and zines. However, the exhibited artworks on this exhibition do not belong to any of the groups. This time in the gallery space of the ISBN there are pieces and their documentations which treat the book as the object of art. Various publications appeared on video, print, photography or just completely transformed. In these cases, according to the intention of the artists, the readable content is secondary, and the possibility of page-browsing is completely excluded. All the exhibited works are using the picture of the object of a book but beyond the palpable object they communicate a different meaning. The show is characteristically a study exhibition based on an iconographic collection, not ignoring the presence of the bookstore adhering to the ISBN's gallery space.
Exhibitors: Lőrinc BORSOS, Gabriella CSOSZÓ, Gábor KRISTÓF, Áron KÚTVÖLGYI-SZABÓ, Kata TRANKER, Gyula VÁRNAI.
Curator: Bea ISTVÁNKÓ
Photo: Lukács Máté