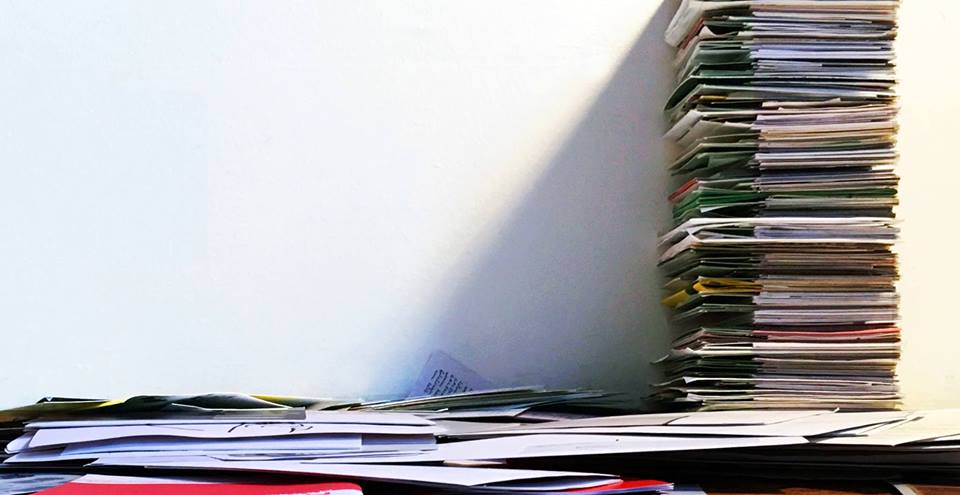 (the nr. zero exhibition of ISBN)
Attila Menesi has been engaged in the independent art department's (f***k)* work since 2013, even further from the art institutional scene and the production of artworks than in the earlier years. However, closer and closer to a practice that creates new situations and publicity for the contemporary art scene. But now some bananas boxes appeared.
The project that's opening on the second last day of the year is playing with retrospection and takes note of numerology, which the artist is impressed by and of a birthdate.
The present transitional space of ISBN – on google maps as the plastic processing workshop of artisan Lőrincné Csatári who makes glass frames, while the art scene already knows it as the art bookshop and contemporary art gallery Bea Istvánkó created – matches the project.
The collection of thousands of invitations and programme introductions to exhibitions Menesi has been laying up since the 1990s illustrates not only the era of that time but of today too, as part of one of the installations of the project. In the screening space lesser-known, unfinished and artworks in progress are going to be shown, next to new infographics in connection with f***k.
The collection is free to be studied and rearranged for the time of the project. A narrative screening on 30th December 2017 and a public talk on 9th January 2018 is accompanying the project.
opening: 30th December 2017, 18:00
opening hours: Tuesday – Friday 12:00-19:00, Saturday 14:00 – 18:00
visitors are welcome to see the project until 12th January 2018
* The independent art department is present with free contemporary art courses in different educational fields of several Hungarian universities and colleges from the fall semester. For the time of the courses the department moves into the actual institution. Besides the lectures and workshops, other programs give possibility for conversation, interactivity and collaboration with visiting artists and other professionals. In the 31 different departments almost 1000 students and more than 80 artists and art professionals participated on the courses from the fall semester 2013-14. The one week summer workshops (Ádánd (2015), Hegyeshalom (2016), Velence (2017)) are the opportunity for the intensive collaboration and network for participating students and local communities by 3 topics