We are happy to announce the first online auction of the ISBN books+gallery. The ISBN is a contemporary art bookstore and gallery space, opened in 2017 December in Budapest, Hungary. The institution is specailized on independent publications and artists' books, photobooks and fanzines in limited edition. This time we have the chance to sell two non-standard copies from the first print-run of HUMAN, the latest photobook of Gábor Arion Kudász. The title is sold-out world-wide, but these two copies left at the property of the artist, till now! Each copy contains minor additions by the artist, sketches, markings, stencil, stamps and signature. In the framework of this auction you can bid on the 178th copy of the book. Later this year, we will announce a following auction for the other copy we have (no. 324).
– We announce a 14 days online auction from the 22th of September till 6th of October 1pm.
– You can make your offers using the online application form.
– If we get offer in the last 5 minutes of the auction we will prolong the auction with extra 20 minutes every time.
– We can ship worldwide but shipping fee is not included in the price. It will be calculated according to the final delivery address.
Online auction is available here:
https://forms.gle/PrtCGusMf9qhfMCh8
Minimal bid: 100 EUR
Bidding ledder: 20 EUR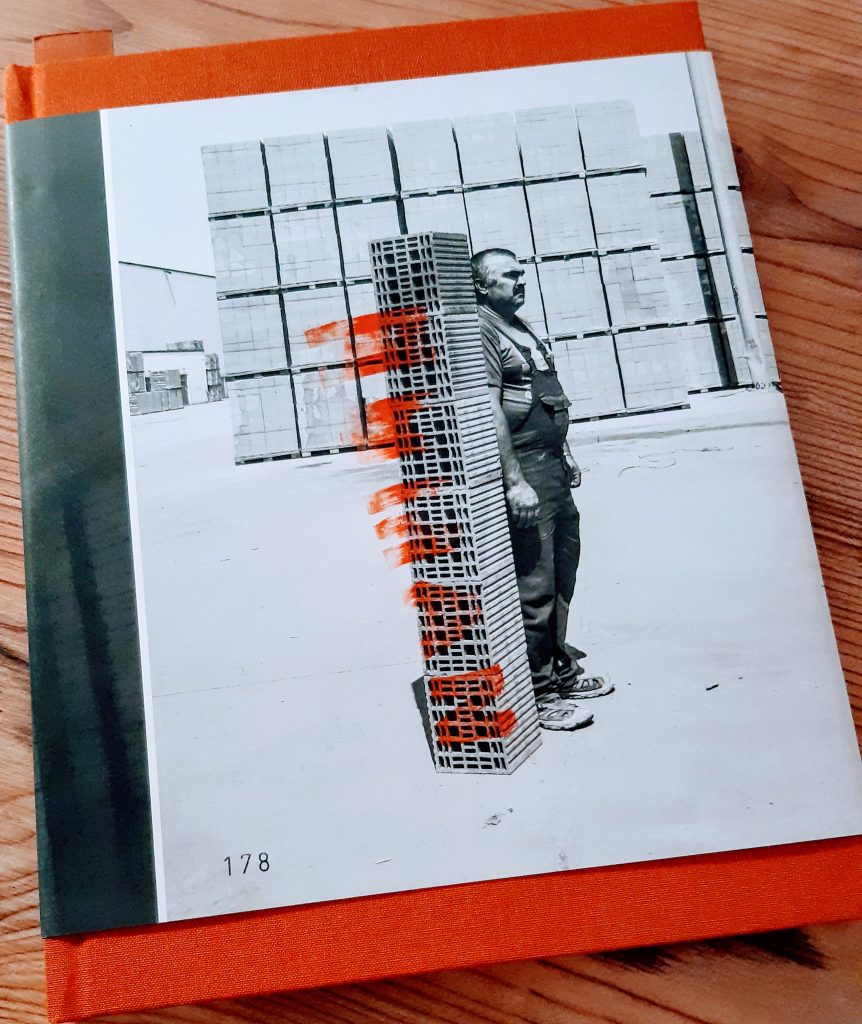 Abstract:
The brick works as concept, as in building block, module, part. It is also an artificial construction invented at the dawn of civilization, which latterly strongly influenced the course of development of human reasoning. It is a simple model of how one can understand the formerly continuous fabric of the universe by cutting it into well-formed units and reconstructing it. This book is an attempt to employ this principle.
Büro Für Kunst proposed the undertaking of a brick related photo project on behalf of the Wienerberger Contemporary Photography Collection in 2014. The work was recipient of the inaugural Robert Capa Photography Grand Prize, shortlisted for Leopold Bloom Art Award in 2015, shortlisted among five outstanding projects of Le Bal Award for Young Artists with the ADAGP and it was winner of Conscientious Portfolio Competition in 2016.
HUMAN
hardcover, dust jacket
18,8 x 25 cm
120 pages, 80 duotone illustrations
Self-published in cooperation with Faur Zsófi Gallery
500 numbered copies
2018
ISBN 978-615-00-0603-1
More information:
https://www.youtube.com/watch?v=U3-497pRPKo&feature=youtu.be&ab_channel=J%C3%B6rgColberg
https://www.lensculture.com/articles/gabor-arion-kudasz-human