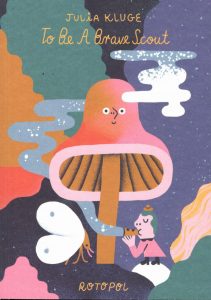 Title:
To Be A Brave Scout
Series:
Rotopol #

2021
Published by:
Rotopol, Kassel
Release Date:
2021
Contributors:
Julia KLUGE
Genre:
zine
Pages:
32
ISBN13:
978-3-96451-025-9
3990 HUF - temporarily unavailable
Also in this series:
Ready for a trip into the wilderness? With her new book, Julia Kluge invites you to wondrous adventures in nature. In a tongue-in-cheek style, she presents all sorts of impressions from the lives of brave scouts – from hiking at sunrise and picking delicious berries to camping under the stars. The dreamy and expressive illustrations make familiar flora and fauna seem excitingly alien. No wonder, because after all, a practiced look at nature brings all kinds of amazing things to light. And should life in the wilderness ever get dicey, you can always rely on your fellows.
___________________________________