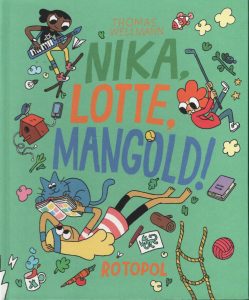 Title:
NIKA, LOTTE, MANGOLD!
Series:
Rotopol #

2017
Published by:
Rotopol, Kassel
Release Date:
2017
Contributors:
Thomas WELLMANN
Genre:
artists' book
Pages:
84
ISBN13:
978-3-940304-34-6
5990 HUF
Also in this series:
Nika is into metal, video games, and action. Lotte is super athletic, super accurate, and super smart. Mangold likes to drag around stuff, has the best taste in clothes, and makes the best cannonballs. The three dwell in Dackeltal, where Karl dates nasty Berta, Becker's fat cat feels misunderstood, a new tree house is built, and wild snowball battles take place in winter.
Sometimes silly, sometimes thoughtful and always with lots of humor, all sorts of ideas, and full of beans the three friends NIKA, LOTTE and MANGOLD face the bigger and the smaller adventures in their lives. And Thomas Wellmann proves once again that he is not only a fantastic comic artist, but also what great narrator he is.
_____________________________________