Boros Mátyás: Kóbor lapok / Stray Pages
January 7 @ 19:00

-

February 1 @ 19:00
Esemény navigáció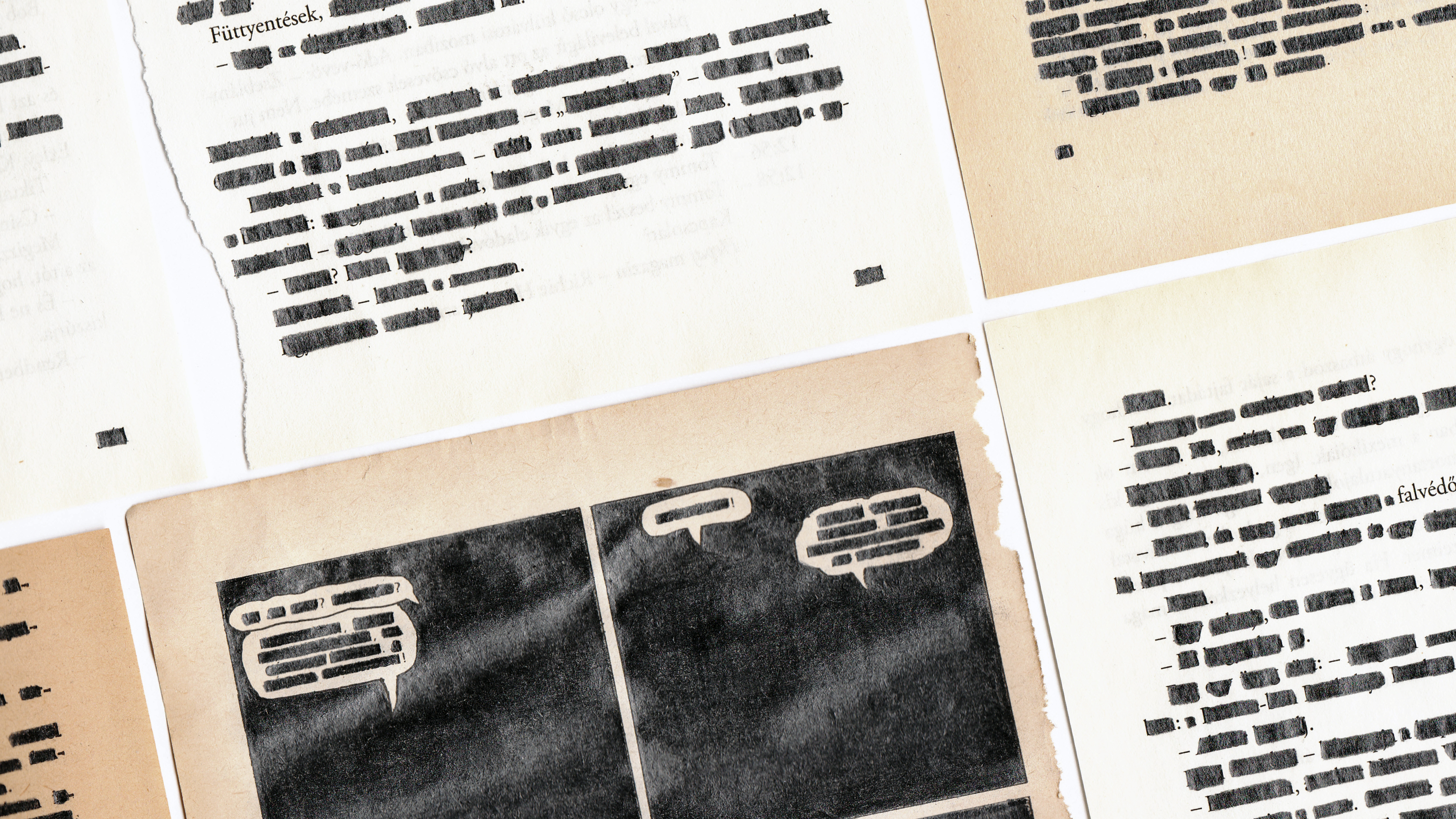 Boros Mátyás: Kóbor lapok
2019. január 8 – február 1.
Megnyitó: 2019. január 7. 19:00
A kiállításon látható munkák létrejöttét hosszú munkafolyamat előzte meg; olyan oldalakat használtam amik sérült, vagy eleve hiányosan hozzám került könyvekből származnak. Ezek az oldalak már nem részei egy nagyobb egésznek, mert az felbomlott. Nincs jelentősége milyen történet vagy leírás, könyv vagy kiadvány szerves részei voltak. Ebből a szempontból  értelmezhetetlenek, (szöveg)környezetüktől megfosztva, csak önmagukban léteznek. Eredeti funkciójuk visszavonhatatlanul érvényét vesztette.
A lapok betűkből épülnek fel, a betű pedig az egyik legabsztraktabb jel, amit ismerek. Hangot társítunk hozzá, szavakat formálunk belőle, amelyeknek jelentést tulajdonítunk, majd a szavak és fogalmak szöveggé szövődnek.  Ezt az elvont jelrendszert egyszerűsítettem tovább, míg sematikus oldal-portrékat nem kaptam. Minden lapnak van egy saját ritmusa, arányrendszere, amit a rá jellemző tulajdonságok formálnak. Szóközök, sortávok, tördelési sajátosságok eredményezik az egyedi karakterjegyet.
A redukciós folyamat során fokozatosan haladtam szóról-szóra, és végül minden oldalon megtartottam az eredeti szövegből egyetlen szót.  A választáskor hangulatok, benyomások, szubjektív szempontok vezéreltek. Ez a leszűkített szókészlet adja a kiállítás interaktív részének alapanyagát. A látogatók kedvük szerint választhatnak egy szót, vagy akár többet, de készíthetnek szabad verset, haikut, vagy egy történetet is a lapokból. A kiállítótérben mozaikszerűen megjelenő oldalak, értelmezhetők egyesével, vagy egy összefüggő kompozícióként is, ugyanakkor szokatlan, egyedi kirakós játékként is felfoghatók. A variációk száma, ha nem is végtelen, de számos.
/Boros Mátyás/
Boros Mátyás (képzőművész) 1998-ban végzett a Képző- és Iparművészeti Szakközépiskola festő szakán, majd az Ars Hungarica Művészeti Szakközépiskolában tanult. 2005-ben szerzett diplomát a Magyar Képzőművészeti Egyetem képgrafika szakán. Munkáiban gyakoriak a műfaji határátlépések. A grafika progresszív, kísérleti irányai foglalkoztatják. A rajz, a nyomtatás (sokszorosítás), gesztusának vizsgálata során gyakran jut el olyan területekig mint, a plasztika, a képtárgy, vagy a nagyméretű tér installációk.
Helyszín: ISBN könyv+galéria, 1084 Budapest, Víg utca 2.
Nyitva tartás: K-P 12-19:00, Szo 14-18:00
//
Mátyás Boros: Stray Pages
8th January – 1st February 2019.
Opening: 7pm, 7th January 2019.
A long workflow preceded the artifacts exhibited at the show Stray Pages; I have used pages from injured or deficient books of mine. These pages are no longer part of a larger oneness because it has already loosened. No matter which part of a story, a description, a book or a publication they were originally. From this point of view, they are incomprehensible, deprived of their con(text), they only exist in themselves. Their original function was irrevocably invalid.
The pages are made up of letters, what is one of the most abstract signs I know. We associate it with a voice, form words from them which we attribute with meaning, then the words and notions became texts. I have continued to simplify this abstract signal system until I arrived to schematic page portraits. Each sheet has its own rhythm and ratio system, which is shaped by its characteristic features. The spaces, the line spacing, and the pagination result the unique character of a page.
During the reduction process, I progressed continuously word-by-word, and I kept a single word from the original text on each page. My choices were driven by moods, impressions, and subjective aspects. The visitors of the show are free to choose one word or more, but they can make a poem, a haiku, or a whole story from the pages. The mosaic-like pages in the space can be interpreted one by one or as a coherent composition, but can also be seen as unusual, unique puzzle games. The number of variations, even if not infinite, it is numerous.
/Mátyás Boros/
Mátyás Boros (fine artist) was attended to the Secondary School of Fine Arts and Applied Arts in 1998, then studied at the Ars Hungarica Secondary School. He graduated at the faculty of graphic art of the Hungarian University of Fine Arts in 2005. Border crossings between the mediums are common in his works. He is interested in the progressive, experimental directions of graphic art. Examining drawing, printmaking, and gestures he is often get to intermedial territories such as sculpture, objects, or large scale installations.
Location: ISBN könyv+galéria, 1084 Budapest, Víg utca 2.
Opening hours: Tu-Fri 12-7pm, Sat 2-6pm