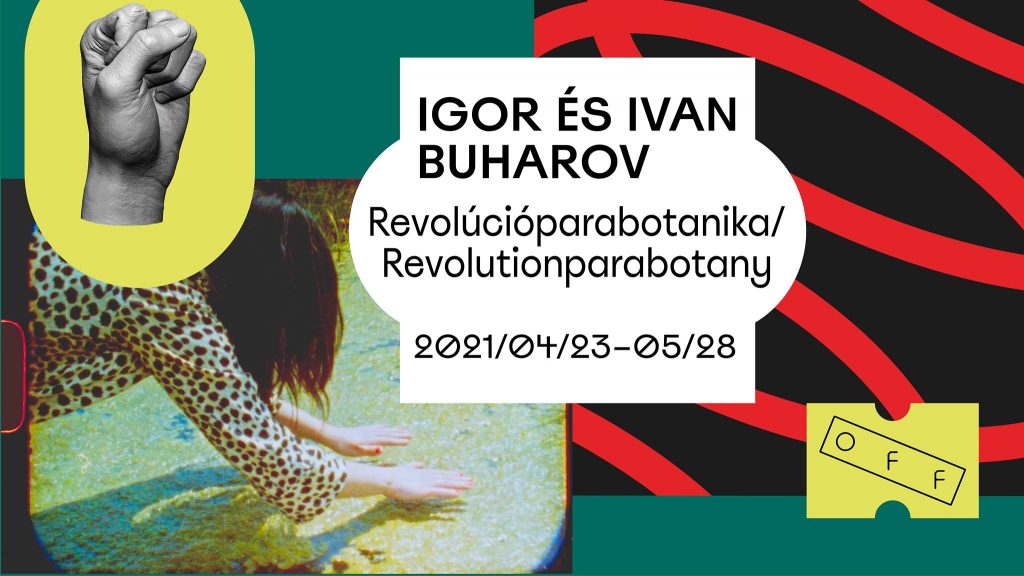 Are plants capable of eliciting social change or inciting spiritual civil disobedience by wielding strange unknown forces?
The point of departure for Igor and Ivan Buharov's solo exhibition is their latest film, Land of Warm Waters, which attempts, by presenting the "revolution of plants," to reinterpret the notion of "revolution" and to reconsider traditional political concepts. This latter attempt is in accordance with Hungarofuturist endeavors, one of its objectives being the extension of the political sphere to non-human life forms as well. In Buharovs' interpretation, therefore, revolution is not an event controlled by human demands, but a metamorphosis between different modes of existence throughout which spiritual relations and energy fluxes are formed between humans and plants. Of equally fundamental significance to the Buharov brothers and to Hungarofuturism, this absurd worldview is derived from the encounter of images, meanings and textures in a form that hybridizes diverse artistic media. The spectator experiences revolution as "xenotopia," the theater stage of alienness, where it is never possible to decide exactly where the political-aesthetic energies catapult us: to the start or the end of a civilizational stage. For the natural history of plants is inseparable from human history, that is, revolution may simultaneously lead to mutation and social change. From a Hungarofuturist perspective, the two presuppose each other, as the transformation of history cannot go without the redesign of species.
The exhibition is realized as part of the Hungarofuturist project 'Those Who Are Not With Us Are Also With Us!'
Igor and Ivan Buharov (Kornél Szilágyi and Nándor Hevesi) are important figures of the Hungarian independent and experimental cinema. They have been collaborating on experimental short films, animations, documentaries, feature films, and experimental artwork in the frontiers between visual art and film since the mid-1990's. In 2018 they produced the large-scale site-specific performance-installation Eternal Intentionfield Tuning for the Steirischer Herbst in Graz. Co-organized by tranzit.hu and Trafó House of Contemporary Arts the project was presented in Budapest in 2019. Among others their artworks were presented at Manifesta 8 in 2010 in Murcia, Shedhalle in Zurich, Künstlerhaus Bethanien in Berlin, MNAC in Bucharest, Moravská Galerie in Brno, Biennale Warsawa, the Hungarian National Gallery, Trafó Gallery in Budapest, MODEM in Debrecen, Art Gallery Paks and the Institute of Contemporary Art in Dunaújváros. Their films with a unique, surreal and grotesque atmosphere (eg.: Most of the souls that live here, Rudderless, Slow Mirror and The Triumph of Sympathy) have been screened at several festivals and won a number of awards.
Time 23.04 – 28.05.2021
Opening hours: Between the 23rd and 25th of April: Fri 12 am – 8 pm, Sat 12 am – 6 pm, Sun 12 am – 6 pm
Between the 27th of April and the 28th of May: Tue – Fri 12 am – 7 pm, Sat 2 pm – 6 pm
Venue:
ISBN books + gallery,1084 Budapest, Víg uca 2.
Venue is not wheelchair accessible.
The store can accommodate 7 people at a time, we ask for everyone's patience and understanding for a possible waiting on the street.
Free entrance
Participating artists: Igor & Ivan Buharov
Participating curators: Borbála Szalai; Márió Nemes Z.
Related programs:
27.04. 5 pm: Online guided tour
The project was commissioned by OFF-Biennale Budapest 2021
Press:
OFF-Biennále Budapest. Fotó: Orbital Strangers Project, Aknay Csaba / OFF-Biennále Budapest Archívum