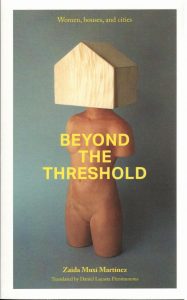 Title:
Zaida Muxí Martínez: BEYOND THE THRESHOLD. Women, houses, and cities
Published by:
dpr-barcelona, Barcelona
Release Date:
2020
Contributors:
Zaida MUXÍ MARTÍNEZ
Genre:
architecture, urbanism / építészet, urbanisztika
Pages:
342
ISBN13:
978-84-949388-6-3
9990 HUF
Zaida Muxí's 'Beyond the Threshold' is a revised account of the history of architecture and urban planning through the contributions of the women who have been silenced in our general histories. With the built environment as its frame of reference, the book explores topics from design to politics, examining both the house and the city, the private and the public. As in other areas of knowledge, the arts, science, and politics, women have been and are still not represented on equal terms, or even fairly, based on equal merits. For this reason it is crucial to revisit and deconstruct the dominant historiography of architecture and cities, rewriting it with women as its protagonists.
_______________________________________________