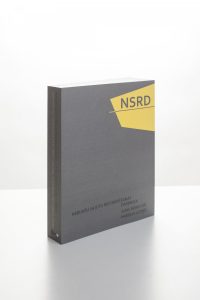 Title:
Workshop for the Restoration of Unfelt Feelings - Nebijusu sajutu restauresanas darbnica
Published by:
The Latvian Centre for Contemporary Art
Release Date:
2016
Contributors:
Ieva ASTAHOVSKA, Mara ZEIKARE
Genre:
theory / elmélet
Pages:
480
ISBN13:
978-9934-8509-9-8
6300 HUF

What was the new wave? Why the avant-garde is not avant-garde? How do you dance the binocular dances? Where do you end up by going to Bolderāja once a year? How to go about restoring that which has never existed? What is the nature of the business of the Approximate Art Agency? Why are postmen yellow? How did discotheques begin in Latvia?
Book examines the most avant-garde phenomena in Latvian art from the mid-1970s up to the early 2000s. During the Soviet period, disconnected from the art development processes in Europe, there were a number of artists actively working in Latvia, who did not fall within the ideological framework and worked beyond the representative institutional system establishing their own unique artistic syntax. Juris Boiko and Hardijs Lediņš were the most outstanding artists from this circle. Their creative work encompasses avant-garde and underground music, visual arts (multimedia art, video art, action art, etc.), absurd literature and poetry, theories on architecture, performances, installations and other creative disciplines. Performances, music records, actions and interventions were made with contributions of numerous artists, musicians and other creative individuals, revealing a completely new means of expression in Latvia at the time and destroying the boundaries among artistic disciplines.