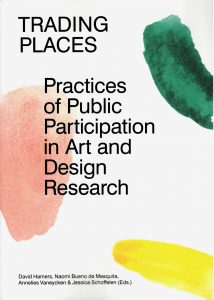 Title:
TRADING PLACES. Practices of Public Participation in Art and Design Research
Published by:
dpr-barcelona, Barcelona
Release Date:
2017
Contributors:
David HAMERS, Naomi BUENO DE MESQUITA, Annelies VANEYCKEN, Jessica SCHOFFELEN
Genre:
theory / elmélet
Pages:
178
ISBN13:
978-84-944873-9-2
4990 HUF
This book invites readers to trade perspectives on issues of participation in terms of working in our contemporary urban environment. Six approaches are discussed – intervention, performative mapping, play, data mining, modelling in dialogue, and curating – in order to rethink, develop, and test design-driven practices and methods. By aiming to discover common ground, explore new territories, and exchange points of view through different kinds of logic and knowledge, 'Trading Places' targets art and design researchers, students, practitioners, and the multiple stakeholders with whom they collaborate, examining what participatory ways of working in the urban environment entail.
_______________________________________