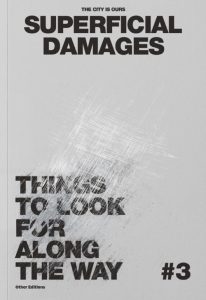 Title:
The City is ours #3. Superficial Damages - Things to look for along the way.
Published by:
Other Editions, Helsinki
Release Date:
2023
Contributors:
Lorenzo SerraGlia Servi
Genre:
artists' book
Pages:
96
ISBN13:
978-952-68784-7-8
7990 HUF
The walls of the buildings, sidewalks, and streets in the city are in contact with a wide variety of users, uses, and activities: people walking, parents running with strollers, bikes suddenly braking, skateboarders practicing their tricks, scooters and cars being driven at full speed, and much more. All of these activities inevitably leave behind traces on the material surfaces, such as scratches, marks, and cracks. These traces of wear are often seen as something negative. But if we look at them with a more open mind, what can scratches and other superficial forms of damage found in the city tell us?