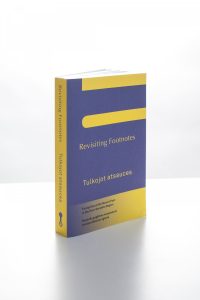 Title:
Revisiting Footnotes - Footprints of the Recent Past in the Post-Socialist Region / Tulkojot atsauces
Published by:
The Latvian Centre for Contemporary Art
Release Date:
2015
Contributors:
Ieva ASTAHOVSKA, Inga LACE
Genre:
theory / elmélet
Pages:
350
ISBN13:
978-9934-8509-5-0
2000 HUF - temporarily unavailable

The publication aims to capture and analyse the persistent Soviet era traces or references in art, public space, architecture, society, the field of collective and individual memories. Similar to footnotes in a book, the translated references – various processes, events, artefacts, symbols, systems, mythologies and nostalgias – give a kaleidoscopic commentary, elaborate and bring closer narratives about the recent past.
The contributors of the publication belong to the generation that returns to the consciously forgotten socialist past, yet their interest is rather an attempt to investigate and understand the conditions of contemporary reality that are still tied with this heritage. They explore, interpret and translate this experience through both visual imprints and the interrelationships of their meanings, applying different approaches, such as documentary, reconstructive, anthropological, archival and others. They do not refrain from depicting the dramas that arose from the change of the political and economic systems, instead treating the past and the present as belonging to the same timeline, which also contains potential scenarios for the future.