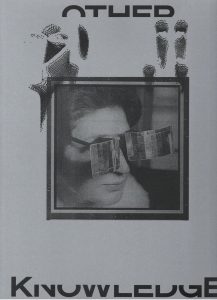 Title:
Other Knowledge: Texts, Images, Documents
Published by:
MeetFactory, Prague
Release Date:
2023
Contributors:
Tereza JINDROVÁ, Eva B. RIEBOVÁ
Genre:
catalog / katalógus
Pages:
258
ISBN13:
978-80-906994-8-9
6990 HUF
Other knowledge is the long-term theme of the dramaturgy of the MeetFactory Gallery, which since 2020 has thematically covered exhibition projects and related events and research activities. The term "Other knowledge" refers to those areas and ways of knowing, knowing and creating a worldview that go beyond or exceed the Enlightenment / rationalist conception of epistemology, which in our (European / modern) times and culture we usually side or which the prevailing social systems and hierarchies do. (eg capitalism or patriarchy) The main servant of this dominantly recognized epistemological model based on rationality is science. But in life we ​​observe many other ways of knowing or creating a worldview. "Non-rational" knowledge can be based on emotions, immediate experience, faith, speculation, imagination, etc., and usually deviates from generally accepted norms or naming, classification or evidence.
Specific topics that our exhibition activities focus on include spirituality, magic, mythology, empathy and intuition, para-science, conspiracy and post-truth, healing, altered states of consciousness and drugs, "madness" vs. "Normality", childhood vs. education, learning about the world by people with sensory disabilities, discovery and adventure, artificial intelligence, oral traditions and knowledge of "natural nations", and last but not least, artistic research as a specific category of cognition.
All these thematic areas try to look for alternatives to the dominant rationalist model of knowledge. The point is not to disqualify reason and science, but rather to point out the broader framework of our existence in the world. The tradition of Western thought is associated, among other things, with power structures based on oppression (colonialism, patriarchy) or extractivism, which contributes to the social, economic and environmental problems of today. We consider dealing with alternatives to these systems to be one of the responsibilities of art and culture, which should stimulate and co-create (self) consciousness in society.
_________________________________________