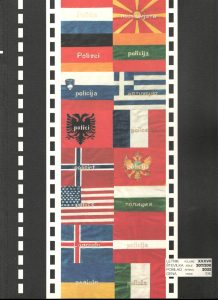 Title:
..maska / Issue 207-208, Spring 2022 / POLICE
Series:
..maska #

2022
Published by:
Maska, Ljubljana
Release Date:
2022
Contributors:
Pia BREZAVSCEK, Rok BOZOVICAR
Genre:
magazine / folyóirat
Pages:
130
ISBN13:
ISSN 1318-0509
4500 HUF
Also in this series:
Maska  was founded in 1920 by the Ljubljana sub-committee of the Association of Theatre Players of the Kingdom of Serbs, Croats and Slovenes. In 1985, the Association of Cultural Organisations of Slovenia revived this publication under the title of Maske. In 1991m its original name was restored and its co-founder - Institutum Studiorum Humanitatis - reinstated. 
____________________________________