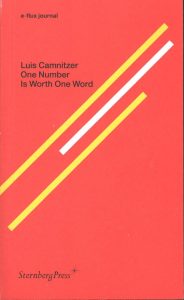 Title:
Luis Camnitzer: One Number Is Worth One Word
Published by:
Sternberg Press
Release Date:
2020
Contributors:
Luis CAMNITZER
Genre:
theory / elmélet
Pages:
288
6990 HUF
There is widespread consensus that we are living at the end—of democracy, of liberalism, of capitalism, of a healthy planet, of the Holocene, of civilization as we know it. In this book, drawing on radical futurisms and visions of justice-to-come emerging from the traditions of the oppressed—Indigenous, African-American, multispecies, anti-capitalist—as materialized in experimental visual cultural, new media, aesthetic practices, and social movements, T. J. Demos poses speculative questions about what comes after end-of-world narratives. He argues that it's as vital to defeat fatalistic nihilism as it is to defeat the false solutions of green capitalism and algorithmic governance.For nearly sixty years, Luis Camnitzer has been obsessing about the same things. As an art student in Uruguay in 1960, he was part of a collective of artists, students, and educators who reformed the School of Fine Arts in Montevideo. Today, he is still an "ethical anarchist" preoccupied with the role of education in redistributing power in society. With mischievous wit and wisdom, Camnitzer's writings summons an inherent utopianism in egalitarian, participatory models of art education to identify how meaning is made.
One Number Is Worth One Word spans over half a century of the Conceptual artist's radical engagement with art education and its institutions, from his student days in Uruguay and move to New York in 1964 to his current work and writings, with many texts published for the first time. This is a singularly authoritative, antiauthoritarian gathering of a life's work in art, education, and activism.
How might we decolonize the future, and cultivate an emancipated chronopolitics in relation to an undetermined not-yet? If we are to avoid climate emergency's cooptation by technofixes, and the defuturing of multitudes by xenophobic eco-fascism, Demos argues, we must cultivate visions of just futurity and multispecies flourishing.