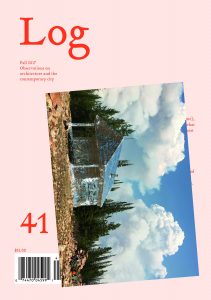 Title:
Log 41 - Working Queer
Published by:
Log 41, New York
Release Date:
2017
Contributors:
Cynthia DAVIDSON
Genre:
magazine / folyóirat
Pages:
176
ISBN13:
978-0-9907352-9-8
5990 HUF
In this issue are various topics surrounding the theme of "Working Queer". Over the last 20 years, queerness has become tricky to spot. Its widespread appropriation by mainstream culture has made things that were queer probably no longer queer, and things that perhaps are queer have now taken on new forms. In short, queerness constantly adapts. Is this "the end of queer space?" ask Jaffer Kolb and Aaron Betsky. In addition, Nicolas Gamso investigates fascist intrigue and the homo-spatial imaginary, Michael Wang writes about queering the system, Andrew Holder offers five points toward a queer architecture, Andrés Jaque looks at "Grindr Archiurbanism", and more.