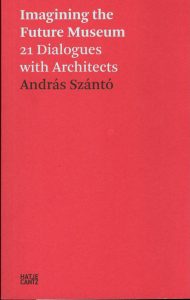 Title:
Imagining the Future Museum. 21 Dialogues with Architects
Published by:
Hatje Cantz, Berlin
Release Date:
2022
Contributors:
András SZÁNTÓ
Genre:
architecture, urbanism / építészet, urbanisztika
,
theory / elmélet
Pages:
288
ISBN13:
978-3-7757-5276-3
9990 HUF
What will the art museum look and feel like in five, ten, fifty years? In his previous book, The Future of the Museum: 28 Dialogues (2020), New York-based cultural strategist András Szántó interviewed a group of international museum directors, who espoused an expanding set of goals and functions for art museums. Now, in his follow-up volume, Imagining the Future Museum: 21 Dialogues with Architects, Szántó engages in conversations with visionary architects worldwide about what sort of "hardware" will be required for the art institution of tomorrow.
What emerges from the 21 dialogues—all conducted between February and September, 2022—is a composite portrait of a generation of architects working to make the museum more flexible, porous, human-centered, culturally responsive, digitally amplified, and environmentally responsible.
Among Szántó's conversation partners are architects already widely acclaimed for the institutions they've built. But the majority of the 21 respondents are emerging forces in the world of museum design – their median age is around 50 – with many years of museum-making ahead of them. The book includes an original sketch by each of the architects and photographs of selected projects by the featured studios.
__________________________________________