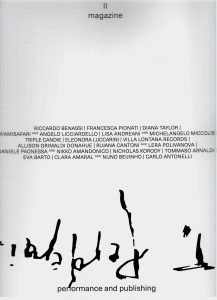 Title:
II Magazine Issue#0 - performance and publishing
Series:
Paint It Black #

2022
Published by:
Paint It Black, Torino
Release Date:
2022
Contributors:
Francesca PIONATI, Nicoló PELLARIN, Tommaso ARNALDI, Lisa ANDREANI
Genre:
magazine / folyóirat
Pages:
304
ISBN13:
978-88-947144-0-1
13500 HUF
II Magazine Issue#0 is curated by VEGA, the artist duo composed by Francesca Pionati and Tommaso Arnaldi, and the graphic designer Nicolò Pellarin, with the research contribution of Lisa Andreani.
Conceived as the second act of Iniziative di II, a Rome based collective founded in 2019 by the curator Lisa Andreani, VEGA and Nicolò Pellarin, this issue of II Magazine presents itself as an inquiry into the theoretical, poetical and factual connections that different editorial practices have with the idea(s) of performance, taking on the task to translate performativity in the vocabulary of printed matters through the work of 25 international artists, authors, researchers and curators.
II Magazine Issue#0 - performance and publishing with contributions by Riccardo Benassi, Francesca Pionati, Diana Taylor, MIAMISAFARI and Angelo Licciardello, Lisa Andreani and Michelangelo Miccolis, Triple Candie, Eleonora Luccarini, Villa Lontana Records and Sylvano Bussotti, Allison Grimaldi Donahue, Rujana Cantoni and Lera Polivanova, Daniele Paonessa and Nikko Amandonico, Nicholas Korody, Tommaso Arnaldi, Eva Barto, Clara Amaral and Nuno Beijinho, Carlo Antonelli.
_______________________________________________