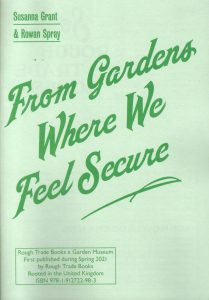 Title:
From Gardens Where We Feel Secure
Published by:
Rough Trade Books
Release Date:
2021
Contributors:
Susanna GRANT, Rowan SPRAY
Genre:
zine
Pages:
30
ISBN13:
978 1 91722 98 3
3990 HUF
From Gardens Where We Feel Secure is gardener and writer Susanna Grant's exploration of her thinking on history, value and meaning of nature in the city. Examining the premise that naming species allows us to expand our understanding, our interest, our ways of looking at the world around us, and the idea of plant-blindness—our tendency not to see what we can't name in the nature that surrounds us—she throws a spotlight on five of her favourite wildflowers with accompanying images by photographer Rowan Spray. These stories are interspersed with reflections on Grant's own countryside childhood and her work in London's community gardens: why we can't walk where we want to, planting as an act of resistance and, above all, the necessity of weeds and their beauty.
_______________________________________