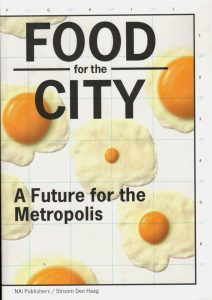 Title:
Food for the City. A Future for the Metropolis
Published by:
NAiPublishers/ Stroom Den Haag
Release Date:
2012
Contributors:
Brigitte van der SANDE
Genre:
theory / elmélet
Pages:
254
9990 HUF
By the year 2050 there will be nine billion people living on Earth. Seventy-five percent of them will be living in cities. If the world population continues to grow at this rate, it will take several extra planets just to produce the food that will be needed to feed it. The result of a multi-year interdisciplinary program called "Foodprint," Food for the City offers 13 visions from experts across the world: a politician, an activist, an economist, a philosopher, a chef, an architect and a farmer, among others. From the visionary to the practical, their essays and proposals examine the influence food can have on the culture, shape and functioning of the city.