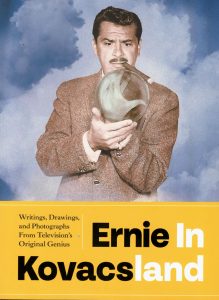 Title:
Ernie In Kovacsland. From the Collection of Josh Mills & the Kovacs Estate
Published by:
Fantagraphics
Release Date:
2023
Contributors:
Josh MILLS, Ben MODEL and Pat THOMAS
Genre:
monography / monográfia
Pages:
284
15990 HUF
"Best known for his wildly imaginative, gleefully absurdist television show in the 1950s, Ernie Kovacs (1919 - 1962) was also a notorious illustrator, novelist, essayist, newspaper columnist, and poet. In celebration of this cockeyed genius and his prolific creative output, Fantagraphics presents a career retrospective featuring never-before-seen photos from Kovacs's archive; excerpts of his magazine articles, columns and books, hand-notated TV scripts: a smattering of his "illustrated profuselies," the wacky improvisational sketches he drew on air; and more. Curated by Josh Mills (son of Edie Adams, Kovacs's wife and a performer on his show), Edie/Ernie archivist Ben Model, and counterculture historian Pat Thomas, the book offers a unique glimpse into the mind of a pioneering comedian. The first Kovacs book to be published in 30 years, this impressive collection features previously unpublished Ernie photos, drawings and writings, vintage 1960s magazine articles reprinted for the first time, and new essays by Ann Magnuson and Ron Mael of Sparks. Kovacs inspired countless comedians, musicians, humorists, and writers in the latter half of the 20th century and beyond. He is cited as a direct influence by the creators and stars of such innovative comedy series as Saturday Night Live, Monty Python, and Mystery Science Theater 3000. An award in his name has been granted to uproarious humorists like Amy Sedaris (Strangers with Candy) and Harry Shearer (This is Spinal Tap). A true visionary, Kovacs's iconoclastic approach has forever made its mark on the world of comedy."