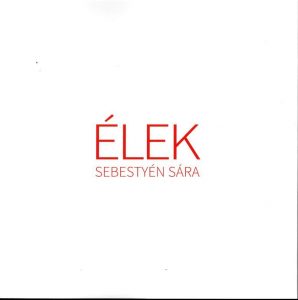 Title:
ÉLEK - Sebestyén Sára
Published by:
Nyílt Struktúrák Művészeti Egyesület, Budapest
Release Date:
2020
Contributors:
HAJDÚ Gergely
Genre:
monography / monográfia
Pages:
102
ISBN13:
978-615-81184-4-6
4990 HUF
.
.
A könyv egy nő, egy feleség, egy anya életének új szakaszba lépése, az élet apróságainak tisztelete, Sebestyén Sára fotóművész megújulásának története.  A cím, ÉLEK is több értelmezési lehetőséget hordoz magában. Egyrészről megragadja az élet alapvető lényegének határait, felszabadulva az egyszerűség élvezetében, másrészt a geometria szépségeivel játszva művészi tartalmat hoz létre. A könyv  új aspektusokat segít teremteni környezetünk, és saját életünk látásában. Ebben a kérdőjeles és kihívásokkal teli időszakban kiváló ajándék, mert mindannyiunknak segít, szükséges a szemléletváltásban. A könyv három nyelven mutatja be Sebestyén Sára munkásságát Jász Borbála, Szöllősi- Nagy András és Günter Baumann írásain keresztül. 
//
The catalogue displays a personal transition to a new stage of a woman, of a wife, and a mother. It is a homage to 'little things' in life, a story of  Sára Sebestyén's renewal and re-birth as an artist. The title itself (ÉLEK / EDGES OF LIFE) is also subject to various possibilities for interpretation. On the one hand, it grasps the boundaries of the essentiality of life, liberating itself in the enjoyment of simplicity, and on the other hand, creating artistic content by playing with the beauty of geometry. The book helps us to appreciate new points of views of both our environment and our own lives. It is an excellent gift idea in this challenging and uncertain epoch, as a change of mindset is now essential for all of us. The book introduces Sára Sebestyén's work through texts written by Borbála Jász, András Szöllősi-Nagy and Günter Baumann presented in English, German and Hungarian.