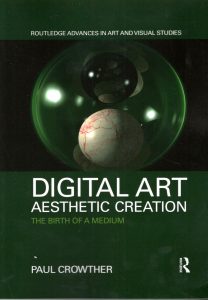 Title:
Digital Art, Aesthetic Creation. The Birth of a Medium
Published by:
Routledge, London–New York
Release Date:
2022
Contributors:
Paul CROWTHER
Genre:
theory / elmélet
Pages:
180
ISBN13:
978-1-03-233891-0
17500 HUF
Is art created with computers really art? This book answers 'yes.' Computers can generate visual art with unique aesthetic effects based on innovations in computer technology and a Postmodern naturalization of technology wherein technology becomes something we live in as well as use. The present study establishes these claims by looking at digital art's historical emergence from the 1960s to the start of the present century. Paul Crowther, using a philosophical approach to art history, considers the first steps towards digital graphics, their development in terms of three-dimensional abstraction and figuration, and then the complexities of their interactive formats.
____________________________________