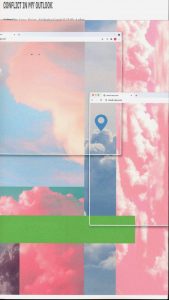 Title:
Conflict in My Outlook
Published by:
UQ Art Museum, Perimeter Editions, Melbourne
Release Date:
2022
Contributors:
Anna BRIERS, Nicholas CARAH, Holly ARDEN
Genre:
theory / elmélet
Pages:
136
ISBN13:
978-1-922545-09-1
9990 HUF
We live in a hyper-mediated world, drowning in an ocean of images and information. 'Conflict in My Outlook' gathers contemporary artworks and new texts that shed light on human experience in an era of ubiquitous networked technologies. From digital intimacies and the weaponization of social media to invisible power structures, clickwork, and the 'gig' economy, contributors seek a better future in the context of algorithmic racism, machine learning, and the new colonial frontiers of surveillance capitalism. The anthology, which is published on the occasion of a two-part exhibition series at UQ Art Museum, focuses on art as a means to explore the techno-politics that define our age.