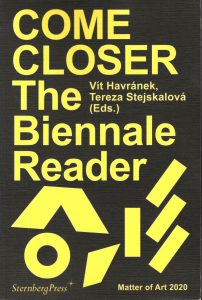 Title:
COME CLOSER - The Biennale Reader
Published by:
Sternberg Press
Release Date:
2020
Contributors:
Vít HAVRÁNEK Tereze STEJSKALOVÁ
Genre:
theory / elmélet
Pages:
300
ISBN13:
978 3 95679 570 1
7990 HUF
The book was published on the occasion of the first Biennale Matter of Art and presents various perspectives on class, race, and gender differences as they manifest themselves in the specific contexts of post-socialist states—in their histories as well as in the present day.
The focus is on art as a specific language that can mediate various experiences, while centering on emotions, intimacy, and care. This reader includes republished texts as well as newly commissioned contributions from both emerging and established artists, social and political scientists, and art historians from Eastern Europe, Asia, and the United States. The anthology was edited by Tereza Stejskalová and Vít Havránek, curators of the Biennale Matter of Art 2020. The book is available via Sternberg Press.
Featured authors:
Jérôme Bazin, Heather Berg, Pavel Berky, Anna Daučíková, Patrick D. Flores , Isabela Grosseová, Vít Havránek, Marie Iljašenko, Rado Ištok, Barbora Kleinhamplová, Eva Koťátková, Kateřina Lišková, Ewa Majewska, Tuan Mami, Alice Nikitinová, Alma Lily Rayner, Sarah Sharma, Jiří Skála, Adéla Souralová, Edita Stejskalová, Tereza Stejskalová, Matěj Spurný, Ovidiu Tichindeleanu, Simone Wille
_________________________________________