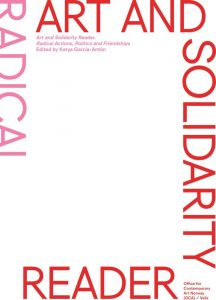 Title:
Art and Solidarity Reader - Radical Actions, Politics and Friendships
Published by:
Office for Contemporary Art Norway - Valiz, Amsterdam
Release Date:
2022
Contributors:
Katya GARCÍA-ANTÓN
Genre:
theory / elmélet
Pages:
376
ISBN13:
978-94-93246-02-7
11990 HUF
Solidarity has re-entered the global zeitgeist with resounding force in the last decade, driving new thinking to counter the systemic failures and abuses of our society. The 'Art and Solidarity Reader' considers the agency artists, collectives, and art institutions have in building the radical visions of care and solidarity needed to transform the conditions of our collective existence. Presenting new and historical material the 'Reader' narrates various micro-histories of artistic solidarity globally from the 1970s to today, in relation to the multiple crises of migration, neo-colonialism, rising radicalisation, class divisions, new technology, and the environment.