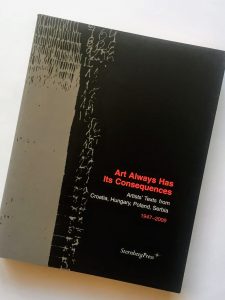 Title:
Art Always Has Its Consequences - Artists' Texts from Croatia, Hungary, Poland, Serbia 1947-2009
Published by:
Sternberg Press
Release Date:
2011
Contributors:
HEGYI Sóra, LÁSZLÓ Zsuzsa, SÜVECZ Emese, SZANYI Ágnes
Genre:
theory / elmélet
Pages:
262
ISBN13:
978-963-08-0271-0
5600 HUF
The countries of the former Eastern Bloc have always been great centers for interesting thinking about art. Art Always Has Its Consequences: Artists' Texts is a collection of manifestos, critical texts, and writings addressing public issues in art, written by artists and artist groups from Eastern Europe. The time period spans the lowering of the Iron Curtain in 1947, the fall of Communism in the late 20th century, and the first decade of the 21st century. The reader is the result of an international curatorial research collaboration of four organizations: What, How and for Whom/WHW, Croatia; New Media Center_kuda.org, Serbia; Museum Sztuki in Lodz, Poland; and tranzit.hu in Hungary.