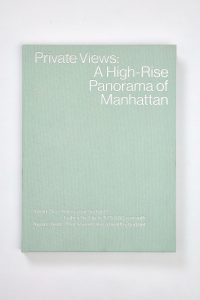 Title:
Andi Schmied: Private Views: A High-Rise Panorama of Manhattan
Published by:
VI PER Gallery, Prague
Release Date:
2020
Contributors:
SCHMIED Andi
Genre:
photobook
Pages:
230
ISBN13:
978-80-270-8358-9
21000 HUF
All of us want to see Manhattan from above, but very few can do it from their own living room. Private Views is here to satisfy our incessant curiosity about a hidden elite world that we can only observe from outside, or occasionally, from an overpriced viewing point crowded with tourists.
While posing as an apartment-hunting Hungarian billionaire, Andi Schmied accessed and documented Manhattan's most exclusive high-rise properties. For the duration of the project, she inhabited a fictional persona: Gabriella, a mother of one whose husband is an antique dealer. Dressing as Gabriella and acting as Gabriella, she prepared for the family's upcoming move to Manhattan by searching through listings of premium real estate agencies and requesting to view some of their most splendid properties. The book guides its readers through the sunset from Trump World Tower and dawn over Central Park from the private ballroom of the tallest residential tower on Earth, showcasing samples of the world's most luxurious materials, such as the Calacatta Tucci marble used in bathrooms overlooking the Empire State Building.
Texts: Sara Emilia Bernat, f-architecture, Irena Lehkoživová, Ava Lynam, Peter Noever, Andi Schmied, Jack Self, Michael Sorkin, Samuel Stein, Barbora Špičáková, Anthony Vidler, Sharon Zukin.
Editors: Irena Lehkoživová, Barbora Špičáková.